Andersen, Greece – A leading Transfer Pricing Firm 2022
For the 7th consecutive year, the World Transfer Pricing (World TP) has recognized Andersen Tax as a Leading Transfer Pricing firm in Greece for 2022.
World TP grants annual awards to tax advisory practices and law firms around the world that demonstrate outstanding performance in their specific field.
Nikos Siakantaris, Managing Partner of Andersen, Greece commented: "Once again, we would like to express our gratitude and thank our clients for their valuable feedback. These results reflect our commitment to continuously delivering innovative, high value-added services that help companies address their most difficult challenges in a rapidly changing environment."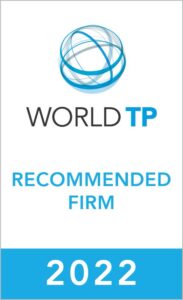 About The World Transfer Pricing Guide
World TP Produced in association with the International Tax Review, World TP provides rankings and editorial coverage of the most effective TP practitioners in the world, covering more than 50 jurisdictions located on every continent. Each edition rates the transfer pricing expertise offered in various markets, giving transfer pricing executives the most comprehensive information about the market for advice.
To learn more about World Transfer Pricing 2022 guide and rankings click here.