Andersen in Greece has been recommended as Leading Tax firm in Greece for 2022.
Our firm ranked as Leading Tax firm for 7 years in a row by the "World Tax" 2022 edition.
World Tax grants annual awards to tax advisory practices and law firms around the world that demonstrate outstanding performance in their specific field.
Nikos Siakantaris, Managing Partner of Andersen in Greece commented: "We truly appreciate this recognition from our clients and peers that trust us in our broad portfolio of services. We'll continue, staying committed in providing top quality services to our clients.  Our tax professionals will keep working hard to respond to our clients' needs and help them achieve their goals in a such challenging environment"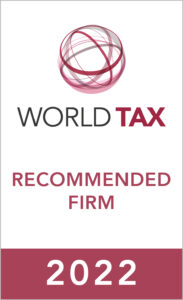 About World Tax
Produced in association with the International Tax Review, the annual World Tax guide is a key resource in assisting tax professionals locate specialist advice. Each edition rates the tax expertise offered in various jurisdictions, giving tax executives the most comprehensive information about the market for tax advice.
World Tax is unique among directories as it classifies professional services, law firms and other tax advice providers together, rather than looking at them separately, because they undoubtedly compete for work.
To learn more about World Tax and rankings click here.