Another great year for our firm, as Andersen Legal has been ranked on the top positions of the Legal 500 EMEA 2022 edition, the world's largest legal referral directory.
Andersen Legal has been named as Top – Tier firm in the area of Employment.  Our firm has also been recommended as Leading Law firm in the areas of  Telecommunication, Media & Technology (TMT), Commercial, Corporate and M&A, Real Estate & Construction and Tax.
Our firm has been ranked for 12 consecutive years, with four of our partners, Theodore Pistiolis, Anastasios Triantafyllos, Themistoklis Giannakopoulos & Vanita Kiriakouli rated as "Leading Individuals" in their area of specialization.  Theodore Pistiolis and Anastasios Triantafyllos in Employment Law, Themistoklis Giannakopoulos in TMT and Vanita Kiriakouli in Real Estate & Construction
Paraskevas Zourntos has been singled out as "Next Generation Partner" in the area of employment and Dimitra Gkanatsiou in the area of Corporate, Commercial and M&A.
Nicholas Zelios , & Kleio Kondi have been recognized as "Rising Star" in the area of TMT.
Martha Papasotiriou is acknowledged in the area of Tax.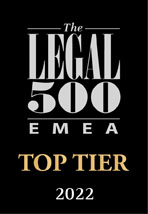 Furthermore, the Legal 500 EMEA 2022 Edition highlights that:
Employment
"The Andersen Legal team is excellent. We have great collaboration and value their well-thought-out and structured advice. They have a good understanding of the peculiarities of our business and are very flexible in meeting our needs."
"The team is a mixture of all the qualities that should be present in an excellent legal counsel team. They have knowledge of all aspects of labour legislation and are skilled in crisis management."
Real Estate
"What makes this practice unique is the attention to the projects' details and the attention to the clients' specific needs and concerns. In addition, they have the ability to resolve issues between the parties if they reach a deadlock." 
"The team offers high-quality advice and industry expertise. Their experience in real estate and construction matters is impressive. They demonstrate real commitment to deliver results, no matter what"
TMT
"Andersen Legal and its team were able to adapt to our group of companies' strengths, weaknesses, opportunities, threats and complex information technology environment quickly and effectively. Andersen Legal has embraced technology, having already developed the necessary compliance tools for data-mapping and employee awareness. The firm excels in technological innovations"
'Extended experience and knowledge in the TMT sector. Innovative advice that looks after the business needs of the company"
Corporate, Commercial & M&A
"The practice is unique in the sense that it combines deep knowledge and substantial experience in the subject matter, delivered with enthusiasm by a talented team of seasoned professionals, with a focus on providing value-added solutions to clients and an incomparable client experience through efficient technology-enabled delivery"
"Always updated on any new evolutions in their field of expertise, always willing to provide opinions and feedback on different legal cases and matters, very professional and direct in their answers and communication"
Tax
"The whole team is constituted by excellent professionals who really care about client's needs and business objectives. They are dedicated and give accurate advice with a focus on details. During our last cooperation, the firm confirmed its high professional standards. "
Once again, we would like to express our gratitude and thank our clients for their valuable feedback. We are proud that our firm and its associates and practices received such a recognition from one of the world's most respectable referral Organizations for all these years. Our ranking is a strong confirmation that our services are highly appreciated by our clients. It is also a recognition of our efforts to better meet our clients' needs. Every member of our team contributed to this achievement and we are confident that they will keep remaining committed in providing our clients with first class services.
The Legal 500 rankings
The Legal 500 Series is widely acknowledged as the world's largest legal referral guide. More than 250,000 corporate counsel are surveyed and interviewed globally each year (over 300,000 in the past 12 months). The Legal 500 is an independent guide, in which law firms, sets and individuals are recommended purely on merit. The Legal 500 Series' analysis of law firm capabilities extends to 125 jurisdictions worldwide. The website (www.legal500.com) attracts over 4 million visitors each year, including more than 2.5 million corporate counsel. Used by commercial and private clients, corporate counsel, CEOs, CFOs and professional advisers – as well as by other referrers of work both nationally and internationally – the series is widely chosen for its definitive judgement of law firm capabilities.
To learn more about our rankings and client testimonials click here