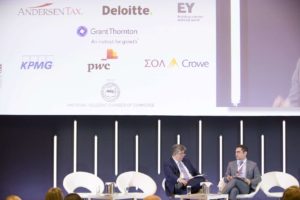 Our firm participated as grand sponsor at the 15th Annual Athens Tax Forum, hosted by the American – Hellenic Chamber of Commerce. The focus of the conference was on smart tax policies for growth and competitiveness. Through open dialogue, key issues related to taxation were examined by reputable speakers and possible solutions were discussed.
Our Managing Partner, Nikos Siakantaris, was the speaker of the session "In Dialogue: Anti-Money Laundering EU Rules and the Responsibilities of Professional Intermediaries".
The leading annual tax-related event with keynote speakers from Greece and abroad and with attendees including the country's political leadership and numerous top business executives, distinguished entrepreneurs and corporate consultants every year earns widespread recognition for its relevance in analyzing tax policies.
The American-Hellenic Chamber of Commerce is one of the largest and most active American chambers in Europe. It was established in 1932 to promote economic and business relations between the United States and Greece. It is a wholly autonomous, not-for-profit organization and receives no subsidy from any government body.