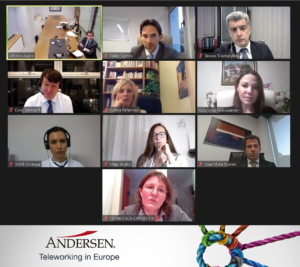 In the absence of uniform rules, employers who employ workers in different European countries live with the constant risk of violating country-specific regulations. To help employers, making the best decision, Andersen´s European Employment Group organized a Webinar to cover the most relevant information on the introduction and implementation of Telework.
The webinar was conducted on Thursday 19th of November, 2020 where a general and updated overview of the regulatory situation of teleworking in Europe was given, focusing on aspects such as its voluntary or compulsory nature, how telework (remote from home) works with the right to digital disconnection, business obligations regarding health and safety during teleworking, as well as other issues of interest such as data protection, confidentiality or the obligation of companies, if apply, to pay the expenses derived from teleworking.
Our managing partner, Anastasios Triantafyllos was among the key speakers of the Webinar.
If you missed it, do not hesitate to check our detailed Guide on Teleworking here